About
Valet Park of America started as an entrepreneurial dream in 1990 when Ted Chagnon began his journey of starting a business. VPA has been and always will be founded on dedication, family values, honesty and hard work. 
We value the relationship with our employees as much as our clients. Many employees have worked with us throughout college and stayed employed on a full time basis post-graduation. Most of our corporate office and management team are made up of employees who have been part of the team for 10-20 years. This dedication is a large contributing factor to the impressive reputation we have today.
We also value the relationships with our clients as well as the customers we serve every day.  It is rewarding to know that just a few minutes of interaction can leave the customer with an unforgettable impression.
Valet Park of America thanks everyone who has helped contribute to our success and we look forward to what the future holds.
The Valet Park Promise
Valet Park of America will be a proactive, dependable partner who demonstrates complete transparency, accessibility and responsiveness from the top management to the attendant level. We will help you build and maintain a positive reputation with your customers and the community. We'll provide efficiency so that you will save time, money and resources. We'll keep our promise by always having:
A go-the-extra mile philosophy
First-class, always full-time staff
Proven standards, processes and procedures
Theodore L. Chagnon
Valet Park of America is principally owned and managed by Theodore L. Chagnon. Mr. Chagnon strongly believes in working on site, in uniform, side by side with many of his employees. This has proven to be one of the most important reasons for his success. He has owned and operated VPA since 1990 and has been accredited by the NPA as a Certified Parking Facilities Manager.
---
Angela Chagnon
Angela Chagnon is our Senior Vice President and has been with VPA since its inception in 1990. She has seen the company grow from a small start-up to where it stands today. Angela has a MBA from the University of Massachusetts and has experience in all areas of the company with responsibilities in day to day operations which include: client relations, human resources, payroll, auditing and marketing.
---
Tim Graney
Tim Graney, our Vice President of Operations, is a graduate of Springfield College with a B.S. in Business Management. He also proudly served on active duty in the U.S. Army. Tim remains in constant contact with every one of our clients to ensure they receive the highest quality of service that they deserve. In order for Mr. Graney to better train and assist the employees, he continuously works on-site and hands-on. Tim has been an employee of VPA since 1992, starting as a valet attendant. Tim received certification in the upgrading, maintaining, and repairing of parking facilities and has been accredited by the NPA as a Certified Parking Facilities Manager.
---
Tim Duval
Tim Duval, our Human Resource Director, has been with VPA since 1998. Tim started as a part-time valet attendant as he was attending college. He quickly worked his way up to account manager and, in 2002; he received his B.S. in Public and Corporate Communications from Westfield State College. That same year, Tim applied and was hired for the position of Assistant Director of Human Resources. Just one year later, he was promoted to Director of Human Resources and has since been accredited by the NPA as a Certified Parking Facilities Manager.
---
Joe Green
Joe Greenhas been an employee of Valet Park of America since June of 1991, when he started off as a valet attendant. He is a graduate of the University of Massachusetts with a Master's Degree. Joe currently leads our I.T. department and handles all technology-related issues. This includes implementation of systems, technology purchasing, and research & development. Joe works closely with our management staff, aiding in the development of new processes using cutting-edge technology and improving overall efficiency in our day-to-day operations. He works with our administrative staff, creating and developing new ways to provide information that our clients need in effective and efficient ways, while also running our Special Events and Charter Transportation departments.
Valet Park of America's team is committed to delivering the best first and last impression by providing exceptional service that goes above and beyond the typical parking attendant's job description. See for yourself how Valet Park's "extra mile" philosophy makes this team stand out above the rest.
Award-Winning Service
In 2011, Valet Park attendants at Albany Medical Center started the valet "Children's Fund." They donate part of their tip money to purchase gifts, toys, and even sporting event tickets for the children who frequent the hospital. These gifts lift the spirits of the children and their parents, and create a personal relationship with the valet, whom the families look forward to seeing on each visit.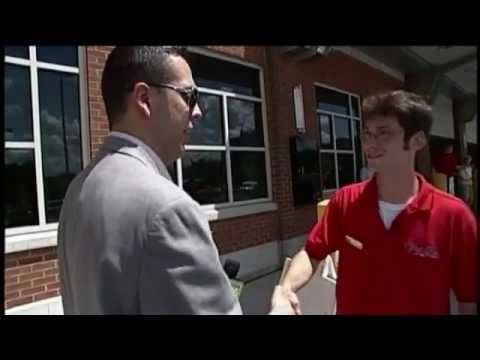 Committed To The Community
The 17th Annual Howdy Awards for Hospitality Excellence were presented on May 15, 2012 — an event that attracts 360+ tourism industry professionals. Howdy Awards recognize front-line employees in the hospitality industry for going above and beyond to provide outstanding service to their customers. Valet Park's own Mike Arsenault, was the winner in the category of Transportation. Mike is a Valet Manager assigned to the D'Amour Center of the Baystate Regional Cancer Program, Springfield, MA. He said he gets familiar with people who come to the center every day for cancer treatments: "If I see a car out on the street, and I know that person can have trouble getting around, I'll get a wheelchair ready. People appreciate that." Congratulations Mike!
Helping Kids Who Have Cancer
To raise money for pediatric cancer patients and their families at Boston Children's Hospital, Valet Park employees joined the One Mission Kid's Cancer Buzz Off, June 2012, at Gillette Stadium. Our team of six managers was able to raise over $2,500! What also made it so special is that two families that frequently visit one of our client's hospitals asked to join our manager, to support him. Both families have sick children so it meant a lot to them to be there. A mother commented on Valet Park's Facebook page, "It meant the world to be part of such an amazing event! We plan on attending next year with more Valet Park participants."
"These days rude or at least indifferent behavior seems to be the norm, so it's a distinct pleasure to encounter such professional employees.  It's even more of a pleasure for a patient, because small kindnesses can make such a difference in one's day."
— A pleased Cancer Center patient
Not only were the valets convenient and efficient, however many of the attendants exhibited an unusual level of friendliness, care, and compassion. During the 37 visits the varied valets greeted me with smiles and made me feel welcome at AMC. Several got to know me as a regular and solicitously asked me how I was doing. Who would expect that from valet service?
— A very happy valet customer